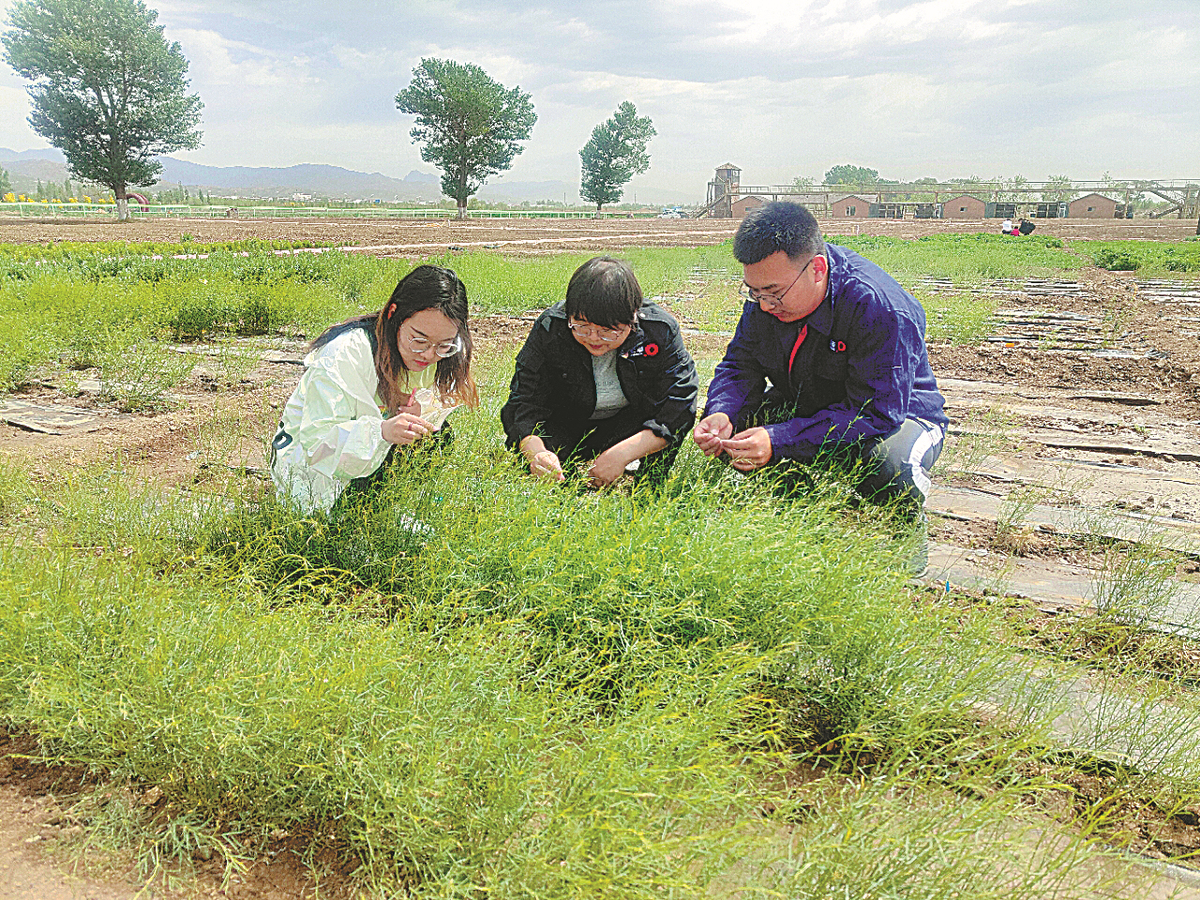 Liu Yaling (middle) works with two colleagues on an experimental plot in the Inner Mongolia autonomous region last month. [Photo/CHINA DAILY]
After working for more than two decades in the Inner Mongolia autonomous region, Liu Yaling's skin has become deeply tanned, but in the process she has helped make the region's grasslands increasingly green.
With a master's in genetic breeding from Inner Mongolia Agricultural University, the 39-year-old started working for the Inner Mongolia M-Grass Ecology and Environment Group in 2010.
Spending much of her time on fieldwork, as a senior engineer, Liu has left her footsteps all over the vast, rolling plains, collecting germ plasm and soil samples to cultivate plant species that could help revitalize degraded grassland areas.
Thanks to their consistent endeavors, Liu and her colleagues have collected 48,000 geotagged germ plasm resources from 1,694 varieties of seed plants for the group, as well as 1.4 million soil samples from arid and semiarid areas.
When Liu and her colleagues accepted the task of revitalizing the Chilechuan grassland in the regional capital, Hohhot, in 2012, the area was a wasteland of sand and scattered stones.
Desertification was so advanced that many experts believed it would be impossible to revitalize, but the team was not put off by the pessimism. Only a month after planting a 67-hectare experimental field with seeds taken from some species carefully chosen for their likely adaptability to the harsh conditions, the area was hit by torrential rains so heavy that the trunks of some trees were broken. The deluge created gullies all over the field and happened just as the seeds were starting to sprout.
"We all felt that we would need to plow the field again and reseed it," Liu said.
But to their surprise, they found a few days later that the plot was gradually turning green. About 80 percent of the seeds they had planted managed to survive the downpour.
The resilience of the seeds made Liu and her team members even more determined to keep going and their efforts eventually paid off. Just two years after they started work, the area was covered in a carpet of green grass dotted with wildflowers. In 2020, Chilechuan was included in the list of the first national grassland parks.
As head of the dedicated team, Liu has begun conducting experiments with seeds bred for six months in space aboard the Shenzhou XIII spaceship. She hopes that her work with the seeds, which were brought back to the Earth on April 16, will lead to the discovery of superior grass species that are resilient, adaptable and prolific.
"The fact that there are limited grass species in Inner Mongolia means that we often lack species that can adapt well," she said. "Now, my priority is to breed new species adapted to local conditions. I want to make my contribution to enhancing the region's environmental security."