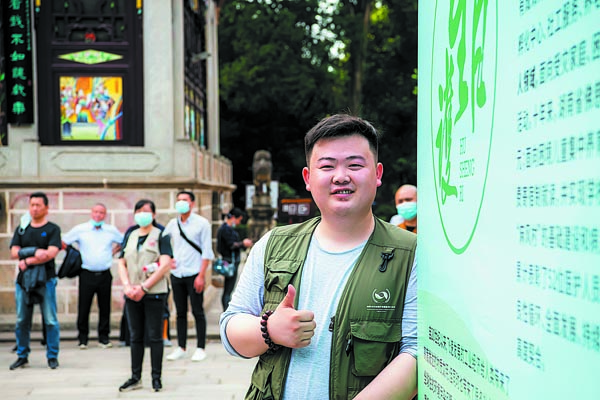 Sheng Kai, the secretary-general of the Ecological Protection Volunteer Services Federation of Hunan Province, at an animal protection activity in Hengyang city in the province in 2021.[Photo provided to China Daily]
Graduate's career in animal protection takes flight in Hunan, as he marshals an army of local volunteers, raises awareness of anti-hunting legislation and helps create a safe environment for migratory birds, Wang Ru reports.
While filming a documentary about bird protection in 2016, Sheng Kai worked alongside forest rangers in Xinhua county, Hunan province, helping to dismantle bird traps in the mountainous area. When they had just finished saving a sparrow from one of the nets, with a sound of gunshot, an Amur falcon, an animal under national second-level protection, fell to the ground in front of them. With shock and rage, they looked around for the criminal, spotting a vague figure, holding a rudimentary firearm, running away in the distance. Due to the complicated mountainous terrain, the poacher managed to evade capture.
The encounter left a deep impression on Sheng. He had been protecting birds for several years as a volunteer, but it was only after seeing with his own eyes how birds were hurt by people, that he realized he still had a long way to go.
In 2014, Sheng joined a bird protection camp at university, and did some publicity work, including going to mountainous villages to educate local people on why catching birds was bad for the ecosystem and helping raise awareness that hunting birds was illegal.