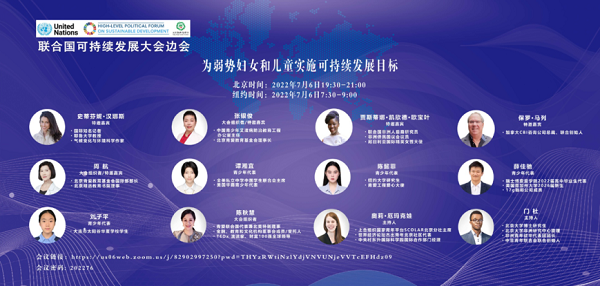 An online session under UN was held to discuss women and youth empowerment. [Photo provided to China Daily]
An online session under the United Nations High-level Political Forum on Sustainable Development was held by Beijing Changier Education Foundation on July 6, gathering experts, representatives from nongovernment organizations and students to discuss women and youth empowerment.
The event focuses on sharing solutions and suggestions on strategies to create operational the sustainable development goals for underprivileged women and youth that promotes gender equality, economic empowerment, health, education and justice.
Stephanie Hanes, an author and journalist, puts forth her ideas as how vulnerable groups can be shielded from the greatest impacts of global warming and how women and young people play an active part in the rebuilding and development of the local communities they are living in.
She says that the impact of such problems as discrimination and climate change on vulnerable groups should not be deduced purely from concepts. It is necessary to listen to stories to try to understand individual communities' unique needs and goals.
"We must use networked and diverse thinking to propose bottom-up, local solutions. Finally, we must develop deep human values that transcend politics and ideology, and use dignity, love, hope and resilience to promote human cooperation with sustainable development," she adds.
Zhang Yinjun, chairwoman of Beijing Changier Education Foundation, says that the foundation has been carrying out public welfare projects in more than 1,200 schools and communities in 28 provinces of China to improve children's education, safety and health, and help them build safety awareness and self-esteem as well as to improve teachers' consciousness of gender equality.
"These projects have effectively cured the spread of AIDs, school bullying and sexual assault among female groups," says Zhang.