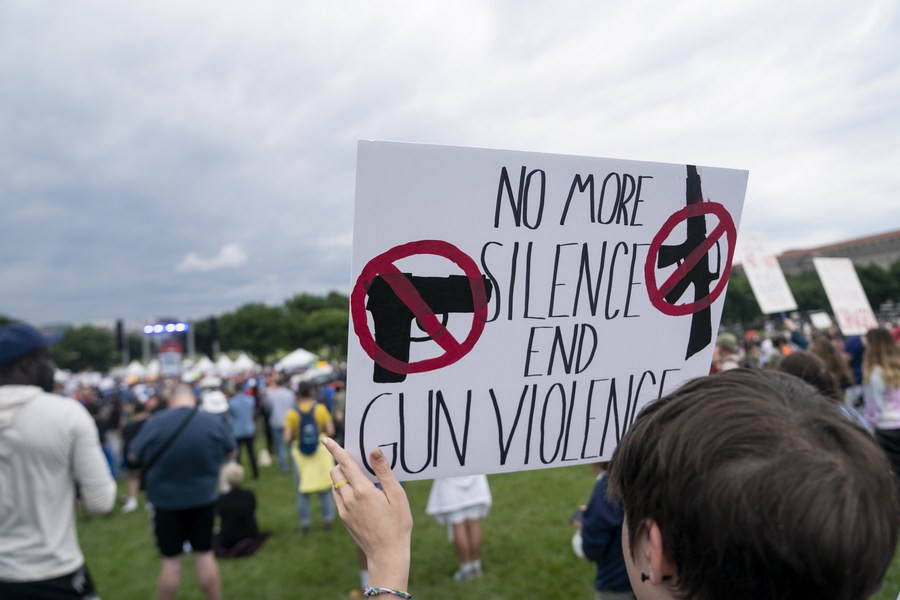 People gather during a rally decrying rising gun violence while urging politicians to take action in Washington, DC, the United States, June 11, 2022. [Photo/Xinhua]
After the elementary school mass shooting in Uvalde, Texas, that claimed 21 lives, including 19 children, less than two months ago, US President Joe Biden said in his condolence remarks: "I had hoped, when I became president, I would not have to do this again."
Regretfully, he has had to do it yet again. His share of doing it as US president is no less than his predecessors, if not more. But, like most of his predecessors, he has chosen to dedicate more time and energy to displays of anguish rather than trying to solve the problem, even if protecting public security is a basic obligation of the state leader.
In a statement issued after the Highland Park mass shooting on Monday, which claimed six lives and wounded dozens during a Fourth of July parade in Chicago, Illinois, Biden said: "Jill and I are shocked by the senseless gun violence that has yet again brought grief to an American community on this Independence Day."
Thanks to the gridlock in the country's legislature caused by partisan politics and the gun lobby, the leader of the most powerful country, who arguably has the power to kill thousands if not millions of people in faraway foreign countries simply by pushing a button, cannot solve gun violence at home.
The timing of the Chicago shooting begs the question how long the United States will have to live with what is intentionally portrayed as a constitutional dilemma.
The founding fathers of the country might not have predicted that granting citizens the right to bear arms, which was intended to protect themselves and their property and fight tyranny, has ironically resulted in the opposite.
Not only are lives lost on a daily basis, but also a dysfunctional style of state machine has solidified gradually, under the disguise of democracy and freedom.
It is fair to say that the two major political parties have cut themselves off from US people. Otherwise, they would not let US people wantonly kill each other. It seems the only thing that they can agree on is forgetting their duty, and their shame at their unwillingness to introduce meaningful gun control.