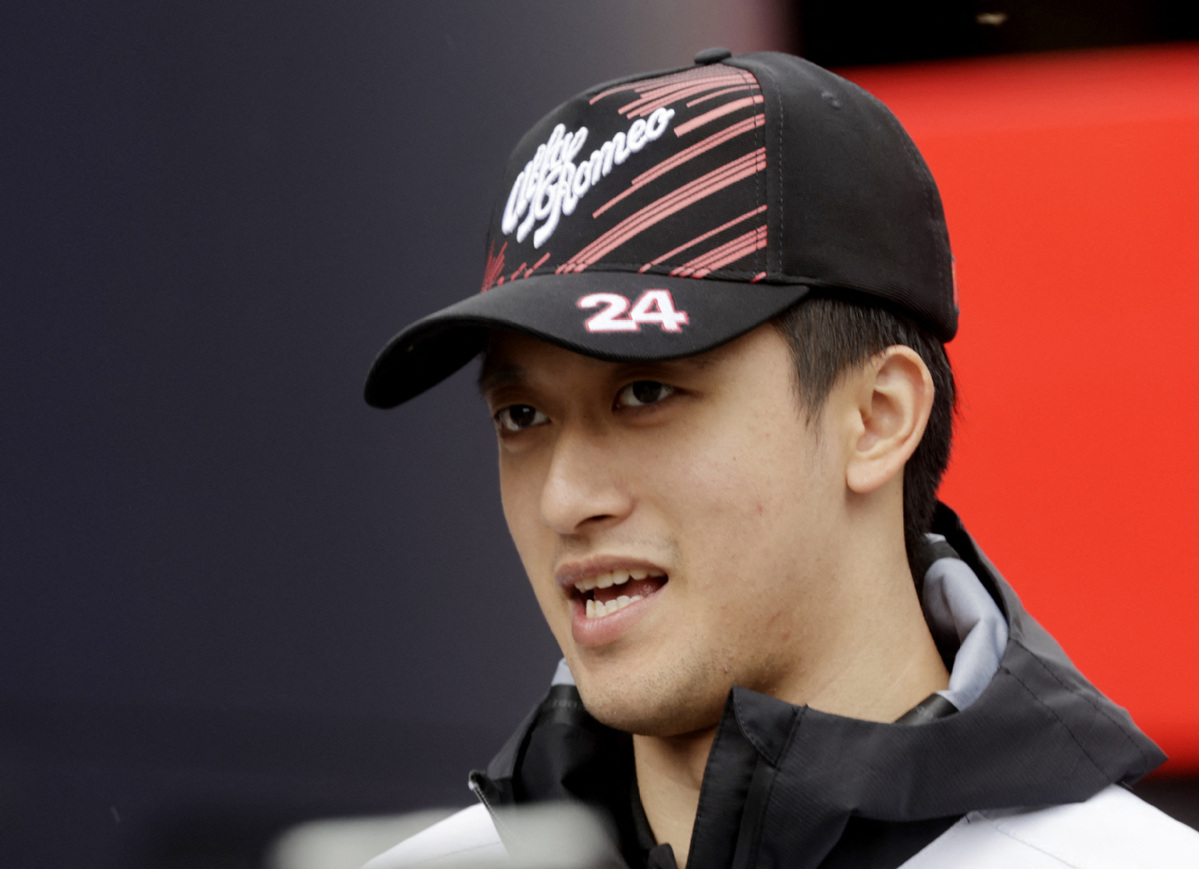 Alfa Romeo's Zhou Guanyu, pictured at the Austrian Grand Prix, finished 14th in Sunday's race. REUTERS
Chinese rookie Zhou Guanyu declared himself far from satisfied with a 14th-place finish in Sunday's Formula 1 Austrian Grand Prix-although most fans were simply glad he made it around safely after his crash the previous weekend.
Back in the cockpit within a week of surviving a horror smash at the British GP, Zhou started down the grid, in 18th, with teammate Valtteri Bottas qualifying in 13th.
The Alfa Romeo pair showed good pace in Saturday's sprint race, with Bottas finishing 10th and Zhou making an impressive recovery from a pit-lane start to place 14th.
However, Zhou was left to rue the team's struggles on hard tires at the Red Bull Ring on Sunday, while Bottas could only start the race from the pit lane after having fresh power unit components installed on his car.
"I feel we had a lot more potential in our car this weekend, so I am not happy with the result. We looked strong yesterday, but today we spent the first part of the race stuck in a train and then struggled with the hard tires," said Zhou after Sunday's race.
"Once we switched to the mediums, I was a lot more at ease and I felt we were competitive, but by then it was too late to make it back into the points.
"The pace we showed in the sprint yesterday and in the final stint today is a positive to keep, as well as the mileage that does help with my overall experience. I had some fun battles and enjoyed the close racing we had, but I wanted more from this weekend."
Bottas was also disappointed at missing out on points, but the Finnish driver believes the team will achieve better results at the next race in France, from July 22-24.
"I was hoping for points today, that was the target, and it's a bit disappointing to be finishing just outside the top 10," said Bottas.
"I think it was a good race, also strategy-wise, and we did everything we could considering where we started. We just lacked a bit of pace, especially through the corners. At least I managed to climb up the grid from a pit-lane start, so that's a positive.
"We must keep progressing, since the other teams are doing so as well. I reckon France could be better for us, but we will need to qualify in better positions than we did here to maximize our chances."
Despite a challenging weekend in Austria, Zhou could be commended for his swift return after being lucky to escape unscathed from a massive crash at the British Grand Prix.
Zhou, Mercedes' George Russell and AlphaTauri's Pierre Gasly collided at the first lap causing Zhou to barrel out of the race at Silverstone.
Zhou's Alfa Romeo slid upside down across the gravel and was wedged between fencing and a tire barrier. The car's halo device was credited with saving Zhou from serious or fatal injury. Having survived his Silverstone ordeal, Zhou was relieved to get behind the wheel again in Austria.
"Finishing the race P14 was not the result that we wanted, but it feels good to be back in the car after the difficult weekend. So there are still a lot of positives to take in the coming races," he said.
Alfa Romeo team principal Frederic Vasseur concurred, saying: "To nearly come away with a point despite all that happened shows the attitude of this team ... we will regroup and aim to start scoring again in France."
Zhou also acknowledged the support he received over the last week in a message to fans on social media.
"I'm so happy that I could return to the track. The whole weekend was not that smooth as we struggled with the hard tires and our speed," Zhou wrote on Weibo.
"But I want to thank you all for your love and care again in recent days. See you again in France."